Full CCPA & GDPR Compliance Solution for Web or Mobile
Stay fully compliant with the latest legal regulation. We have a complete compliance solution to provide, along with multiple generators. Find out what cookies you use on the website and whether you have more tools to comply with the law.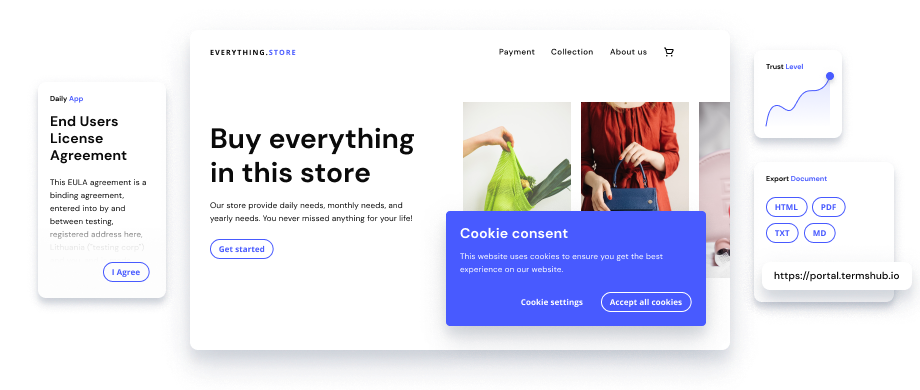 Compliant With
Multiple Generators & Tools
Compliance Policies Generators for Comprehensive Protection
Export in Any Format
Download Documents in Word, PDF, TXT, and Markdown Formats
We provide free hosting for your documents, as well as exporting to various files extensions, such as PDF, HTML, TXT, MD, etc. Generate documents, save them, edit, sent - comfortable and easy.
Policies Creation and Management
Generate and Organise Documents with Ease
Fill the Survey
Simply answer a few questions about your business and some additional questions regarding the document type you generate.
Manage Projects
Generate more documents and assign them to projects. Group and manage for different clients or by type for applications, social media accounts, or websites.
Become Fully Compliant
Your projects are ready for download or integration. Export in various formats, or add links to your compliance portal to be fully protected with up-to-date documents.
Our additional solutions
Get Extra Services for Your Needs

Business Contracts
If you want to avoid the headache of negotiating contracts from scratch, you need a toolkit to help you get it right. Use our online library of various professionally-prepared, legally-binding templates and documents for everything from employment agreements to service agreements.
Learn more

GDPR for Business
Ensure your business is compliant with the EU's General Data Protection Regulation. Get consultation about main GDPR principles, data types, changes in process, procedures for collecting, processing, and protecting personal data. Lower risk of the unknown and the possible penalties.
Learn more
Choose Your Best Plan
Most affordable compliance solution for you
FAQ
What are you worried about
1. What is website compliance?
Website compliance, means that your website can be used by the widest possible audience, including people with all kinds of disabilities. Compliant website URL can use various designing and web development procedures that enable people with physical disabilities to navigate the website.
2. What is needed to be fully compliant for a website or mobile app?
A website or mobile apps within the EU must be 100% compliant with the law.
3. What is needed for business besides web compliance?
Cookie consents, disclaimers, and privacy policies, requirements for GDPR, represent a tiny fracture of the many legal requirements that websites must adhere to.
What you waiting for?
Become Full CCPA & GDPR Compliant Today
Get started